Thanks for visiting Hog Roast St Helens. When it comes to delicious and succulent hog roast catering throughout Merseyside, we're number one. There's so much to tell you about our vibrant and historic county that we scarcely know where to begin – whatever the reason for your visit, we very much hope you choose Hog Roast St Helens as the stand-out mealtime centrepiece to your event or celebration.
Events with Hog Roast St Helens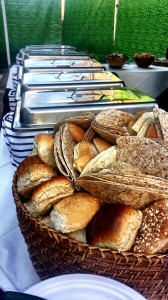 It's safe to say there's a lot going on in St Helens, and even including further afield such as the city of Liverpool, and that means a lot of choice for caterers. Many people often ask 'Why do you stand out over the other Hog Roast Companies?' We do however find this question very easy to answer! We at Hog Roast St Helens know the industry inside out and there isn't something about hog roasting you can ask us where we don't know the answer! During the last 20 years our knowledge and skills within the industry have only advanced. We commit to go to any length to ensure that your needs, as the client, is surpassed.
Hog Roasts are in demand now more than ever, and we have seen a dramatic increase in hog roasts being the centre piece at many special events. If you are looking for a reliable caterer who can provide delicious food to impress every single guest that even stays within your budget – then give us a call! Hog Roast St Helens are the faultless, cost effective, catering solution that you have been searching for.
Hog Roast St Helens – Why Visit Merseyside?
When you think Merseyside, you probably think of the Beatles or the famous ferry across the Mersey. Or maybe you think of Premier League arch-rivals Liverpool FC and Everton FC. Perhaps you think of the Grand National horse race held each year at Aintree. Or how about Knowsley Safari Park or the show-stopping Southport Airshow? For some people perhaps it's Antony Gormley's 'Another Place' statues planted in the sand on Crosby beach, endlessly staring out at the horizon.
The point is that there's simply so much going on in the North West that, year after year, the city of Liverpool alone is ranked in the top ten most visited cities in the UK – that's both for domestic and international visitors. With so many people inbound – and with a local population of around 1.5 million people – Hog Roast St Helens stands ready to provide your event or celebration with superlative hog roast catering that's sure to stick in the minds of your guests for years to come.
Visit Soon – Hog Roast St Helens
Merseyside has a seemingly endless list of exciting group activity options. Whether you're thinking of hosting a private party or a corporate event – or perhaps you could be thinking of taking your marriage vows in our beautiful county, rich with history and modern attractions – we can help. Hog Roast St Helens understands that whatever reason you have for visiting the North West, your event or celebration takes careful planning. We want to assure you that here at Hog Roast St Helens we share in that special level of attention to detail.
Speak to us today to discover how we could help you to make the most of your next hog roast catering experience. Our trained team of hog roast professionals is always willing to go the extra mile to ensure that we exceed your expectations of how hog roast dining can form the ideal group dining mealtime experience.